Excited about the 2014 FIFA World Cup Brazil? GMIC's Netherlands Chapter has caught World Cup fever too! They're fielding their own Green Squad of Sustainability All-Stars, each of whom represents a low cast, easily achievable best practices for sustainable meetings.
For the next 11 weeks, you'll get to meet the players and get motivated to incorporate these practices in all your meetings.
Introducing
Launching in conjunction with the 2014 World Cup, the Green Squad is made up of eleven players, each representing a concrete, practical tip for meeting sustainability that will help planners and suppliers score big points for their next event. They cost little to no money, require little time to implement, and are so simple that you'll be asking yourself why you haven't been taking these steps all along.
For several years, sustainability within the events industry has been gaining momentum. Many people talk about sustainable meetings and events and how we can contribute to improving the environment, society and profitability. Yet not enough practical implementation is happening. Despite a mountain of inspiration, tips, workshops, and education, there is still significant progress to be made.

In the coming weeks, we'll give you the chance to get to know the 11 players of the Green Squad, giving you 11 practical implementations you can use at your very next meeting. We'll start at the back with the powerful defense and work our way, step by step, to the strong attackers.

Check out the infographic below to get familiar with the players, and stay tuned as we introduce the Green Squad over the next 11 weeks! Don't want to miss out any tips? Subscribe to our newsletter!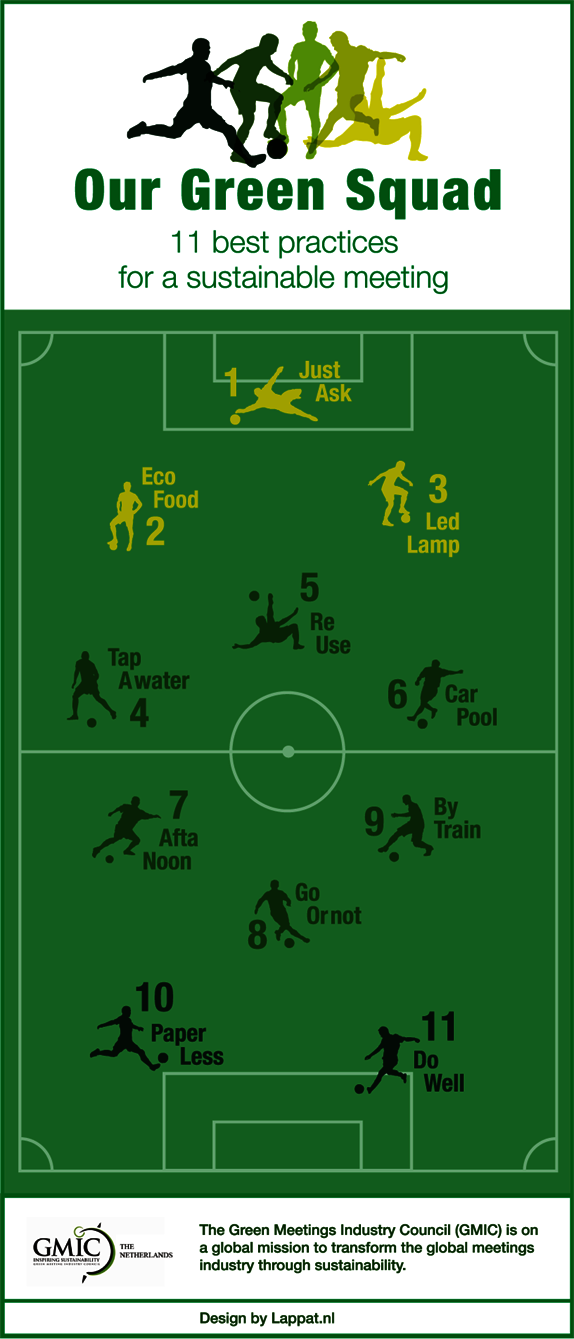 The playes: