Keep track of your event budget with Budgets
Budgets keeps track of all your event-related expenditure and, if you wish, revenue as well. And seamlessly integrates it into a solid financial plan. So you'll never miss the mark when it comes to budgeting your event!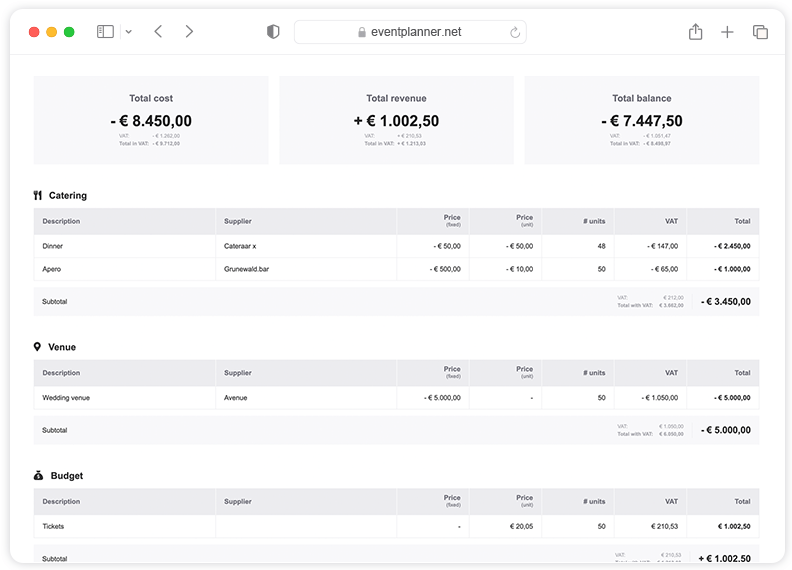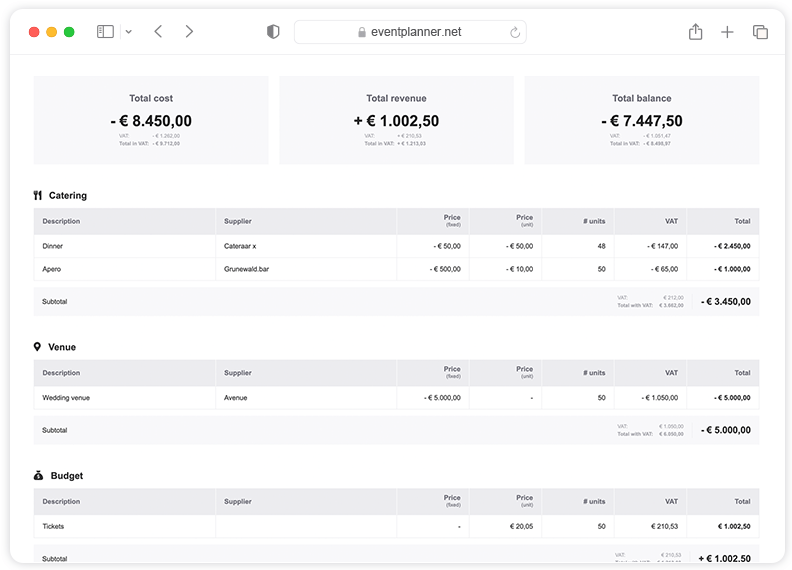 How do you build a business case for you event?
Budgets keeps track of all your event-related expenditure and, if you wish, revenue as well. And seamlessly integrates it into a solid financial plan. So you'll never miss the mark when it comes to budgeting your event!
If you want to use our event budget planner, first create an event (if you haven't already). This is how you work:
1. Create an event
Creating a new event can be done directly from the mood boards page, which can also be accessed via the 'event software' link in the header of our website (if you're logged in), or via the 'add to new event' link whenever you like a business page or save a post.
2. Create a budget
You can create a budget sheet for every event you organise. You do this directly from the Budgets page, which is also accessible via the 'event software' link in the header of our website (if you are logged in).
3. Add costs or revenue to your event
Click on the 'Add budget line' button to add a new cost or revenue to your budget file. Enter your data in the pop-up:
Category: select a category in which the cost or revenue fits. For drink and food costs, for example, you choose the category 'catering'. This way you can neatly put all costs together per category.
Cost/Revenue: Indicate whether the line is a cost or revenue.
Description: a short description of the cost or revenue.
Supplier: here you can enter the supplier or event venue you work with. When you start typing, a list of suppliers we know on our platform will appear. Click the event company name on the list. Is your supplier not on the list? Then just type the name without making a selection.
Fixed price: here you enter the fixed price that you pay to a supplier. For example $ 2500 rent for the event location.
Unit price: do you pay an amount per person? By tent? Then you can enter the unit price here. For example $ 50 per person for the caterer.
# units: This field indicates the number of units by which the tool multiplies the unit price. By default, the tool takes the number of people you have set in your event's settings. This is super handy, because if you adjust the number of people, the tool automatically corrects all budget rows that work with this number. However, sometimes you want to work with a different number, for example, if not everyone is participating in the dinner. In that case, tick the checkbox 'Manually adjust # units'. This way you can adjust the number of units yourself. Please note, if those numbers change, you will have to adjust this field yourself. This does not happen automatically.
VAT percentage: This field is only available in 'advanced' mode for corporate events. You enter all prices excluding VAT and enter the VAT percentage of the budget line in this field. The tool then calculates the totals, including and excluding VAT. Do you have a supplier who uses two or more VAT percentages in the quotation? Then create two or more budget lines.
4. Change/delete budget lines
You can change a line by clicking on it. You can then edit and save all fields or delete the line with the 'delete' button.
5. Advanced mode: VAT
Our software assumes that all prices you enter include VAT. That is perfectly fine for weddings, private events, etc. If you are organising a professional event for your company, you want to be able to see the VAT split. Via the settings of your event you can activate the checkbox 'Work with prices ex. VAT in Budgets'. If you do that, an extra field will appear when you add or change budget lines where you enter the VAT percentage. You then enter all prices excluding VAT and our tool calculates the VAT for you.
Attention:
If you later switch from a simple view without VAT calculations to the advanced mode, you must check all the budget lines entered previously (i.e., adjust the prices to exclude VAT and enter the correct VAT percentages).
Once you switch to advanced mode, it is no longer possible to revert the event to standard mode.
6. Budget versions
You can also create multiple versions of your budget. If you are working on a business case for a festival, you may want to create a realistic, optimistic and worst-case scenario. Other organisers, on the other hand, like to keep track of versions of their budgets: the version of your pitch and then versions with different adjustments. From now on everything is possible.
This is how you create versions
You can create a new version of your budget by clicking on the version name at the top left. Click the 'create new version' link in the drop-down that appears. You can start from a blank sheet or from a copy of the active budget and build on that. You can easily switch between the different versions via the same drop-down.
Free Event Planning Software
Think of all the tools you use when planning truly memorable events: mood boards, checklists, call sheets, ... Now imagine having all those tools in one convenient place!
Discover all tools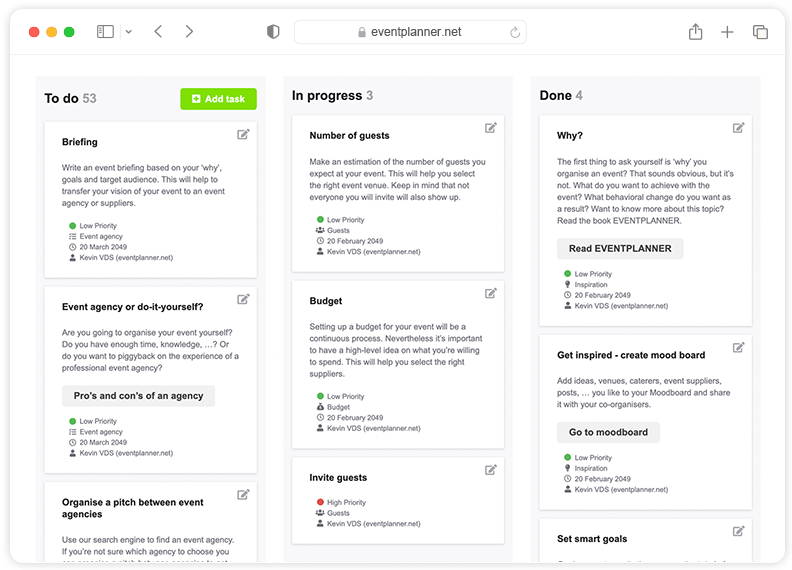 As an event planner you cannot avoid following the budget of your event. This applies to a business event, a private party such as a wedding, or if you are going to organise a concert. Are you going to keep track of all your costs and income 'on the back of an envelope' or are you more of an Excel fan? Have you ever heard of event planning software? Such software often includes an event budget planner. There you enter all costs of the event and the costs automatically adjust if you change the variable data, such as the number of guests. In addition to your event costs, you often also have event income from, for example, advertising sales, (VIP) ticket sales, merchandising or sponsoring. You can add those financial resources to this event budget planner to complete your event business case.
Why prepare the budget of your event in an 'event budget sheet'
Creating an overview of your event budget is of course the main goal, whether it concerns a festival budget, the budget of a private event or the budget of a business event. As an event planner, monitoring income and expenditure is your responsibility: an overview is the basis of budget preparation. By drawing up the budget of your event, you can also see which costs you are missing. Maybe you forget the costs of event insurance, or smaller expenses such as permits, signing, renting furniture and also the waste costs. But as you know, many small ones make one big one.
By drawing up a correct budget for your event, you can also look critically at your expenses and analyse whether they deliver the necessary return on investment. If you work with a high-quality online tool, it is also possible to keep a total financial overview. For example, if you increase the number of guests parameter, the rest of the costs will automatically adjust. A good budget event example is catering. And finally, if the counter of your event budget goes to red, you can check whether there are cheaper alternatives for certain cost items. Or maybe you will find extra income by, for example, sponsoring and fundraising.
Oops, you're missing another important aspect of your event, which is, where is it going to take place? Here you will find an overview of great event venues.
What costs are included in the budget of your event
Logical thinking is the basis of drawing up a good budget. Make the necessary time for it, especially if it is your first time drawing up an event budget. You have fixed costs and variable costs. Your fixed costs are independent of the number of visitors you receive. For example, think of signing, most insurance, permits, costs that you incur for the technical equipment (sound and light, internet, etc.). Your variable costs are determined by the number of visitors. Examples that will influence your event cost are: the rental of the location, the rental of practical equipment such as crockery, glasses, furniture, food and beverage, the design and decoration of the indoor and outdoor space, and, for example, also the parking spaces and cleaning.
Why use event planning software for your event budget
The advantage of working with an online event budget planner to manage the budget of your event? It makes really good collaboration possible, because the tool and the data are available to the entire event team. Forwarding Excel files? Are you working with the most recent version? That belongs to the past with an online event budget planner to manage your event costs.
Are you going to work with integrated event planning software? Then you take another step forward. As an event organiser you get an overview of all your event information: You connect all these parts of your event with each other so that you, your team and your event partners no longer have to work with and in different systems.
Such a tool is perfectly suited for small and large, physical, hybrid and virtual events. The gains: you save time, you make fewer mistakes because you always work with real-time information, in short you work smarter (together). This way you can continue to grow your business in the future.
'Budgets', part of the event planning software from eventplanner.net
Convinced of an online event budget planner to manage the budget of your event? Good news, eventplanner.net is the place to be. Our event budget planner is called 'Budgets'. And yes, this event budget planner is completely free, just like all the other tools in our event planning software. You read that right, free! If you are going to organise an event, you will receive:
An unlimited number of events and event budgets you can plan
An unlimited number of users to collaborate with, including your suppliers
An unlimited amount of data you can store
Would you like to get to know Budgets by eventplanner.net?
Would you like to familiarise yourself with this handy software to plan the budget of your event? Take a quick look at the short instructional video at the top of this page. Are you already completely convinced of this free event budget planner after reading this article? You can get started with your budget planning right away! Good luck!