Event Project Management Software for every event professional
Organising events is easy with our event planning software. In the software you start by creating an event, you list all to-dos, determine the priority, status and assign the tasks. You can easily adjust the status of the tasks throughout your event management via a simple drag-and-drop.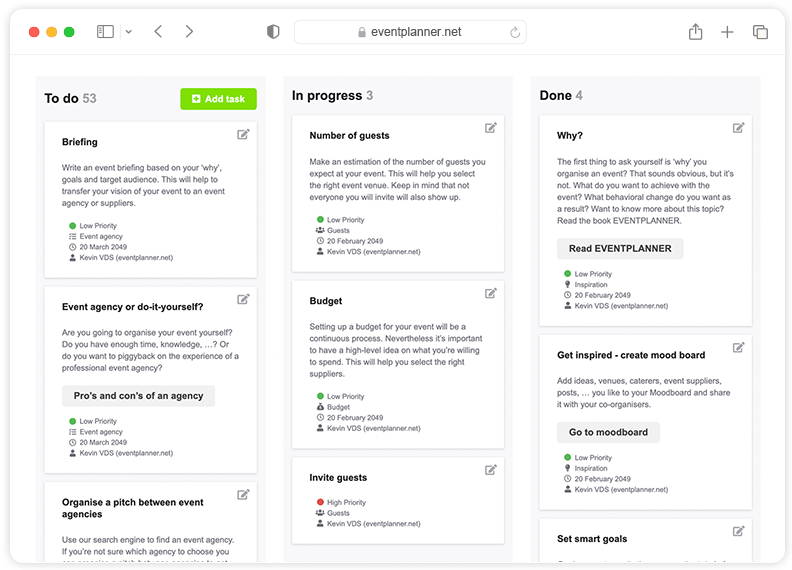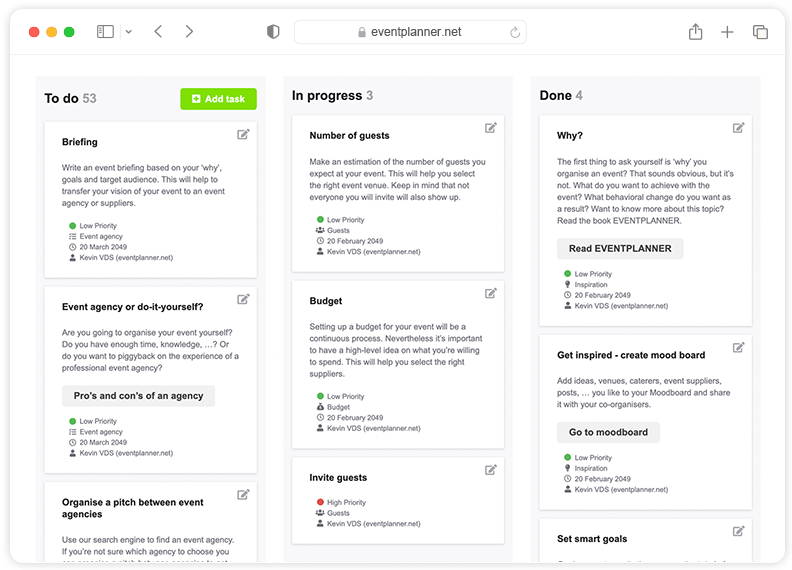 Free Event Planning Software
Think of all the tools you use when planning truly memorable events: mood boards, checklists, call sheets, ... Now imagine having all those tools in one convenient place!
Discover all tools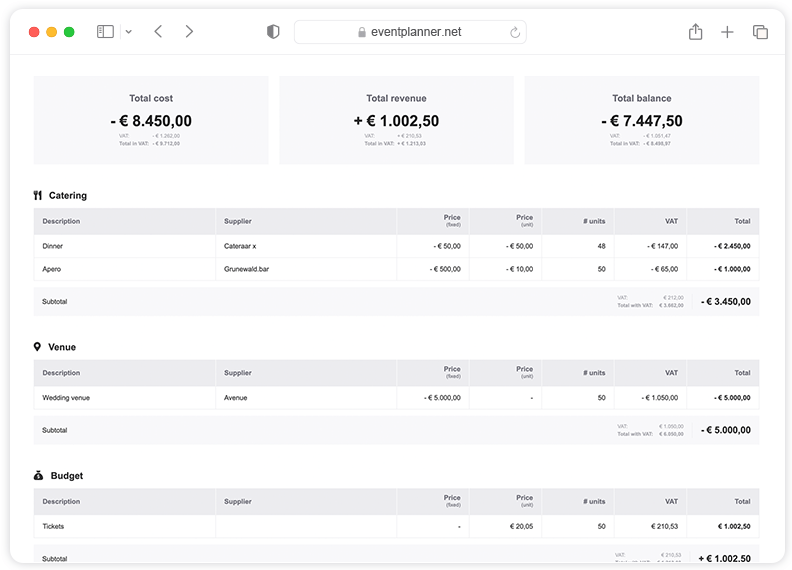 Online mood boards, collect all your visual ideas for your event
The time of cutting and pasting, and storing something somewhere and never finding it again when you need inspiration for your event is definitely over. With an online mood board, you can give your event a personal style by collecting special locations, innovative suppliers or interesting ideas. Mood boards are a collage of ideas that can help you shape your creative vision and realise your plans.
Event project management where you plan and follow up your event, together with your team members, all in one place, in an integrated event project management software. Does that sound like a dream?
It may seem impossible, but it's possible, streamlining and organising your event plan at a glance, while also collaborating with your team and following up on the progress and goals of your event!
Agile Project Management for Events
When you are going to organise an event, whether you do it for yourself or on behalf of a customer or external client, with a classic 'waterfall' project management approach you often lose a lot of time on details at the beginning of your event planning because these come first chronologically. The risk is that you will run out of time later on for much more important tasks. With an agile project management approach, you, as an event manager, divide your event project into small pieces. The project team then looks at what the most important action points are at that moment per time frame or 'wave' or 'sprints'. After a period of, for example, two or three weeks, this exercise is repeated, and the priorities, at that moment, are determined again. With an agile project management approach for events, you work in a small project team led by a project lead (scrum master), who monitors the task management and progress of the event project and ensures that it runs smoothly. This allows you to continuously adjust as a team and you are flexible in changing circumstances, a core competence in the time and the sector in which we now live and work. Shortcomings, omissions, errors or problems quickly surface and can be addressed by the team.
Flexible event project management: the 'why'
Managing your event project according to an agile and professional event project management approach has numerous advantages. We list the most important ones for you. To start, you build an efficient workflow for each of your event projects. With a solid event project management approach and event management software, you can monitor your entire event project in detail from start to finish. You can create all your tasks, assign them to the right person, and follow up the tasks in columns (and with drag-and-drop/drag). And you can easily see which assignments are still open for yourself or your team members. If you use event project management software, you also know that the information that you and your team members have is always up-to-date. Project planning 'made easy', as it were.
This allows you to get your (internal and external) team into action faster, often a gigantic elephant in the room when organising events. Because you collaborate in a structured way and create clear alignment around your event project by adding progress or comments to each task, you bring everything together in one place and you don't forget anything. Because the information is always shared, the 'collective memory' of your team also grows faster. In addition, your team members have more content to contribute about the project, they can often take on multiple roles and you can assign them different tasks, from consultant to executor or designer. You challenge your team to try new things, which is the ideal breeding ground for innovation and creativity. This benefits the personal development of your employees, one of the aspects that plays an important role in their work motivation and happiness.
You also increase transparency in your team communication and in the execution of your event management, when your team works in the same location as you, but also when they are on the other side of the globe: they stay focussed on the event's goals. And are you growing, organising more events, or are your projects getting bigger? With a professional event project management and event project management software you are ready for the future; your approach and your software is scalable to suit any event concept and team of any size and composition.
With an agile event project management approach you also build a strong team. Moreover, by collaborating in a very direct way with a small team and sharing the challenges, people develop a strong 'yes, we can' mentality. With that mindset, the team members achieve a better result within the same time frame because priority is constantly given to what is really important in event management.
Looking for a full-fledged event project management tool? Discover the eventplanner.net Checklists
Are you completely convinced of all the arguments we listed about the usefulness of event project management and event project management software? We proudly present the eventplanner.net Checklists. Organising events becomes easy with this planning software. In the software you start by creating an event, you list all tasks including description of the task, priority, and assigned person and you assign a status. You can easily adjust the status of the tasks throughout your event management via a simple drag-and-drop. You choose, you give your team members read access, or you also grant them edit rights. Real digital collaboration becomes possible with this event project tool.
You are busy enough as an event professional and your challenges are endless. That's why we like to make it even easier for you at eventplanner.net: we even filled the online event checklists with pre-filled items, tailored to the type of event you are going to organise. Removing an item, if there is one that does not match your event concept, or adding items is a piece of cake.
All event project management tools integrated into one software package? That too is possible!
All the tools you use as an event planner in one place? All you need is the internet and the all-inclusive event planning software from eventplanner.net. Do the math: event mood boards where you centralise all your visual ideas, event call sheets that ensure that everyone who is involved in organising your event knows exactly what, where and when to do it, and event checklists, right, which we talked about extensively in the previous paragraph.
All these mega handy and user-friendly tools are integrated into one intuitive event planning software solution. As an event professional you can use these state-of-the-art tools completely free of charge. With the compliments of eventplanner.net. What are you waiting for? To work!