Organise inspiration for your event in one place with Moodboards.
Come across a stunning venue, innovative supplier or interesting post with inspiring ideas on our platform? Pin them to Moodboards : the ideal tool for gathering, organising and sharing ideas with your co-organisers.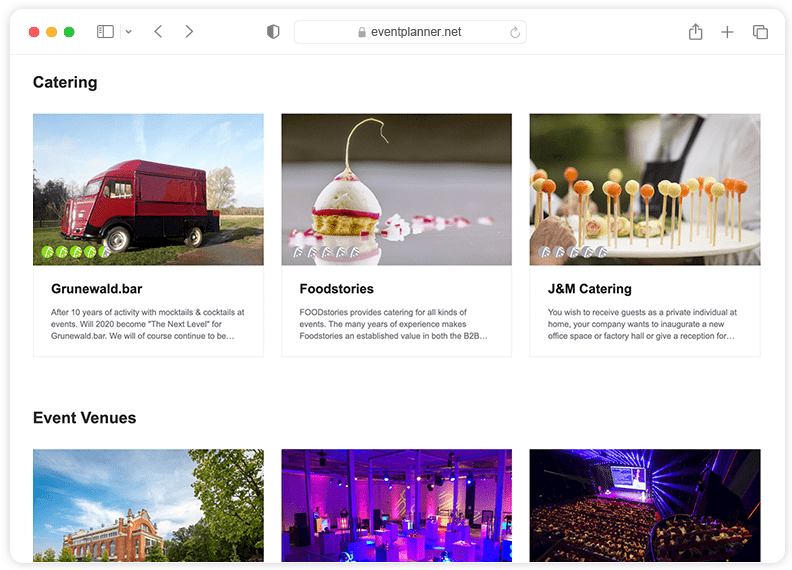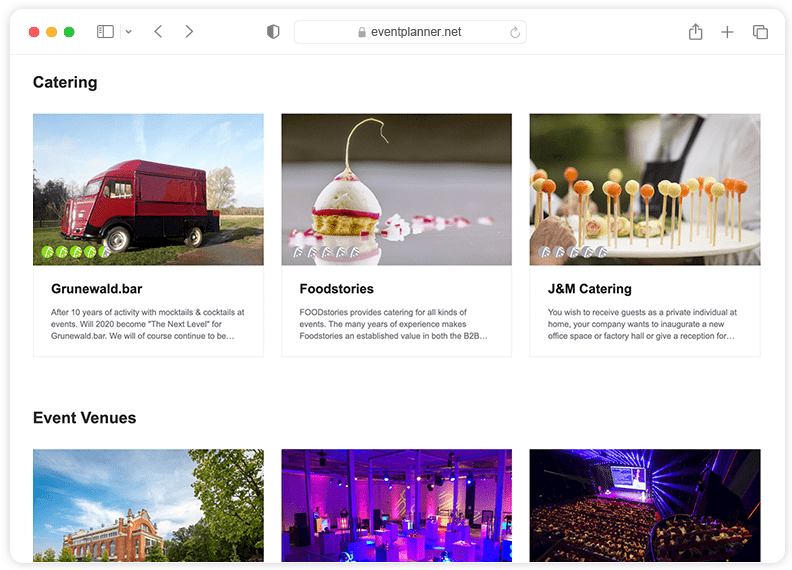 How to use Moodboards for your event?
Moodboards help you organise remarkable events by bringing all your inspiration together in one convenient place. In order to use mood boards you'll first need to create an event. Once you've done so, you can start pinning event venues and other businesses you find on our platform to the event's mood board.
1. Create an event
You can create a mood board for every event you organise. Creating a new event can be done directly from the mood boards page, which can also be accessed via the 'event software' link in the header of our website (if you're logged in), or via the 'add to new event' link whenever you like a business page or save a post.

2. Adding pins to your board
Currently you can add business pages (event venues, caterers, ...) and posts to your mood boards. Later we'll also add the ability to pin our articles and even any external link you want.
Adding an event venue, caterer, ... to your mood board is easy. Just go to the business page of the company on our site and click the 'follow' link as shown below. A pop-up will appear where you can select the event you want to pin the event company to or you can choose to add it to a new event. There's also a shortcut. On many pages where we show overviews of inspiring event businesses, you see a heart icon. By clicking the heart icon you also have direct access to saving companies and venues you like to your mood board.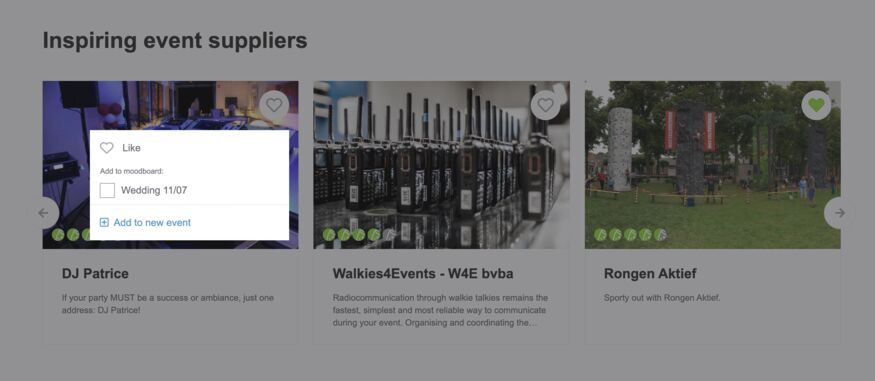 To add a post you want to remember to a mood board, you follow the same steps. Every post you find either on our homepage in your news feed or on a business page has a 'save' link. Clicking the 'save' link shows the same menu from which you can pin the post to one or more mood boards.

Pinning articles and eventplanner.tv broadcasts to your mood board also works exactly the same way by clicking on the 'save' link and selecting the event you want to add the item to.

Do you want to pin a link to an event venue that cannot (yet) be found on eventplanner.net? An article you came across on the internet? That, too, is possible. Copy-paste the link in the 'Links' section and click 'Add Link'. NB! Adding external links becomes possible as soon as you have added at least one item to your mood board.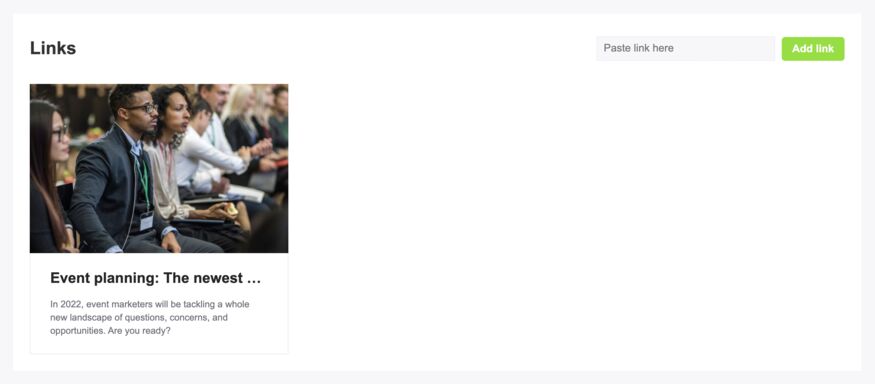 3. Managing your mood board
You can visit your mood board(s) at any time by following the 'event software' link in the header of our website or navigation when you are logged in. The mood board gives an overview of all event businesses and posts you've pinned to it.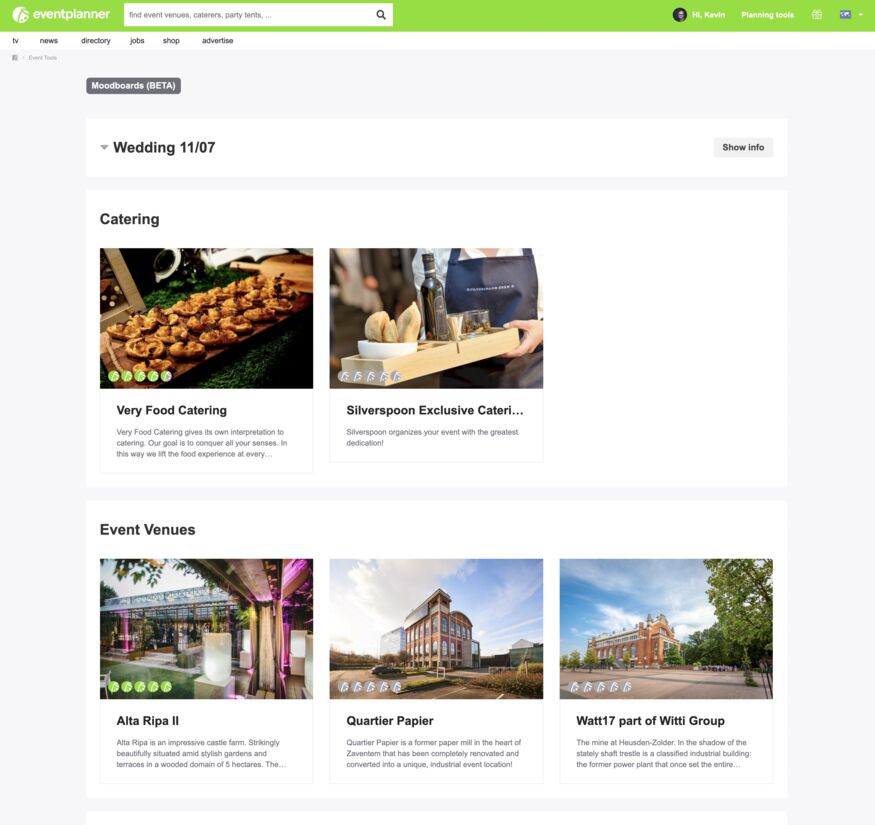 If you want to remove a pin from the mood board just hover over the item and click the bin icon like shown below.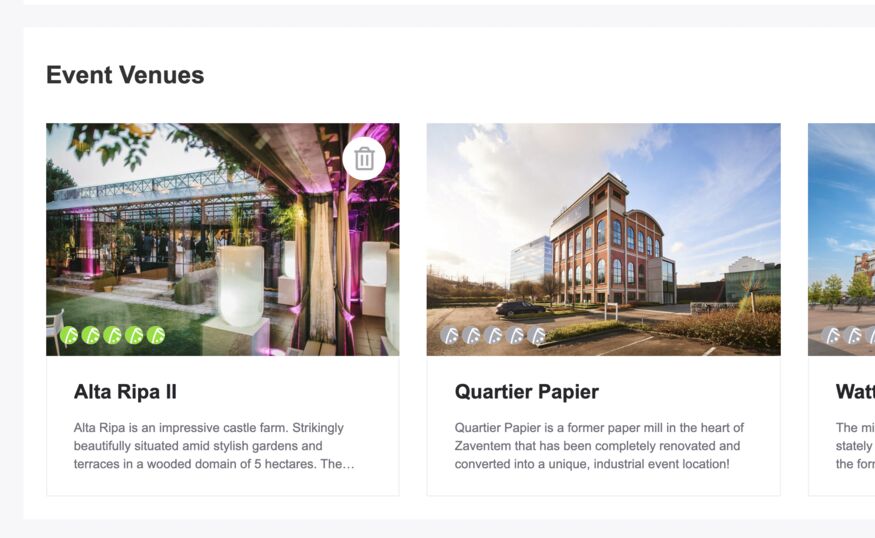 Good luck with it!
Free Event Planning Software
Think of all the tools you use when planning truly memorable events: mood boards, checklists, call sheets, ... Now imagine having all those tools in one convenient place!
Discover all tools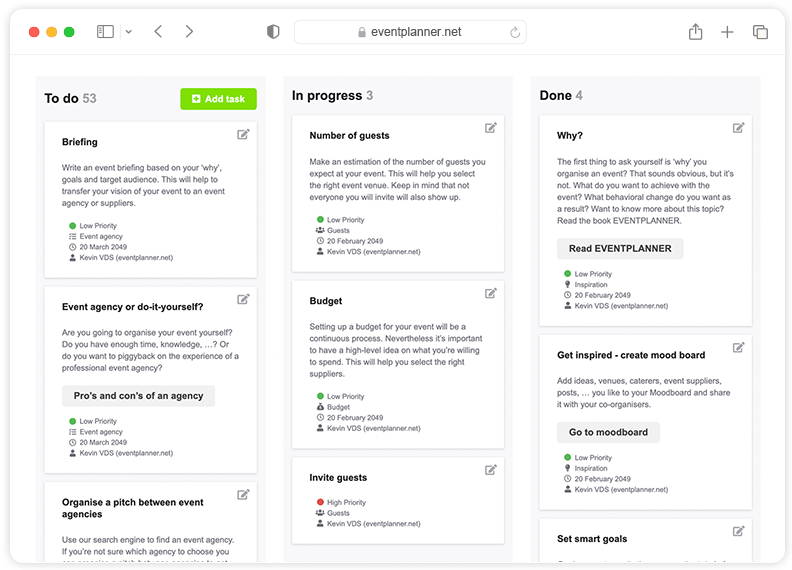 Moodboards is super useful when organising events. With a mood board for your event you can collect ideas in your own style, organise them and share them with your co-organisers.
The purpose of a mood board is to visualise a feeling, emotions, an atmosphere or ambiance. You can do that with words and with images. You can draw up an (online) mood board for various goals. Decorating your home or office, the (re)branding of your company, your wedding you are going to plan. You can also create a mood board for an event that you are going to organise.
Online mood boards, collect all your visual ideas for your event
The time of cutting and pasting, and storing something somewhere and never finding it again when you need inspiration for your event is definitely over. With an online mood board, you can give your event a personal style by collecting special locations, innovative suppliers or interesting ideas. Mood boards are a collage of ideas that can help you shape your creative vision and realise your plans.
It's all about inspiration
Organising a great event is fun, rewarding and also very challenging. With a well-considered and structured approach you are already halfway there. If you want to organise an international tech conference for thousands of visitors, an annual staff party, a seminar, a music festival, an online event or a private party such as a wedding or baby shower, you start planning concretely and that starts with collecting inspiration. As an event organiser you sometimes proactively look for good ideas. Your annual staff party has just ended, and you're already thinking about next year's party. As a wedding planner, you constantly want new input to organise the most beautiful weddings for your customers. A mood board as an online tool is a great way to collect all your ideas.
As an event organiser you still want to let your guests see, hear, feel, smell and taste with amazement, in short, offer a complete experience. You can get this event inspiration and you will use it to make your mood board. In the first instance, think of inspiring event venues. The place where you are going to organise your event is super important because it is where your guests come together. You want a location that leaves an unforgettable impression and enables your guests to get the most out of your event. But the inner person is also important at your event, whether it is a private party or an event for thousands of participants. Caterers give your event the perfect culinary look. From snacks and drinks, a walking dinner, an extensive buffet to a luxurious dinner, you can pin all cool and tasty ideas on your mood board online tool. You can also get great ideas and pin photos about suitable concepts for decoration, (technical and logistical) furnishing, entertainment and animation. Just think of a cocktail or mocktail bar, a magician, a music performance and the like.
The place to be: the online mood board of eventplanner.net
Are you in full inspiration mode? Then the online mood board creator of eventplanner.net is a good companion for the route. You can pin all event suppliers on our platform, but also inspiring posts and beautiful reference cases. You can also pin our articles and TV broadcasts and links from other websites to your plate in no time. You collect all your inspiration in one place, your online mood board. The great thing is that you can easily show your mood board to someone else: your team members, your event agency, or if you are getting married, your fiancé. This makes eventplanner.net the Pinterest for event organisers and event planners. And then the next step is making choices and requesting quotes!
Online mood board in an integrated software package
All the tools you use as an event organiser in one place? It is possible with a professional event planning software. Your online mood board where you centralise all your visual ideas, but also an event project management tool, event call sheets and event checklists can be found in the integrated software solution of eventplanner.net. And the best news: you can use these state-of-the-art tools as an event professional completely free of charge. What are you waiting for? Get started!