Solar Carport Biddinghuizen was festively opened. The 35-hectare Solar Carport was realized at the Lowlands Festival car park and is the largest solar carport in the world.
The surface of the sustainable parking area covers 35 hectares and offers space for 15,000 cars. With the help of 90,000 solar panels, the system provides a capacity of 35 MWp, which can supply approximately 10,000 households with green energy. This output is equivalent to the power consumption of about 100 Lowlands Festival weekends annually. The Solar Carport will be a fixture at this location.
The annual Lowlands Festival takes place at a fixed location in Biddinghuizen. The organization has been working for years to make the festival more sustainable. Energy consumption remains a challenge here. Approximately 300,000 kWh of electricity is consumed per Lowlands edition. Generators currently generate almost all electricity. With the construction of the Solar Carport, the festival is taking an enormous step towards sustainability.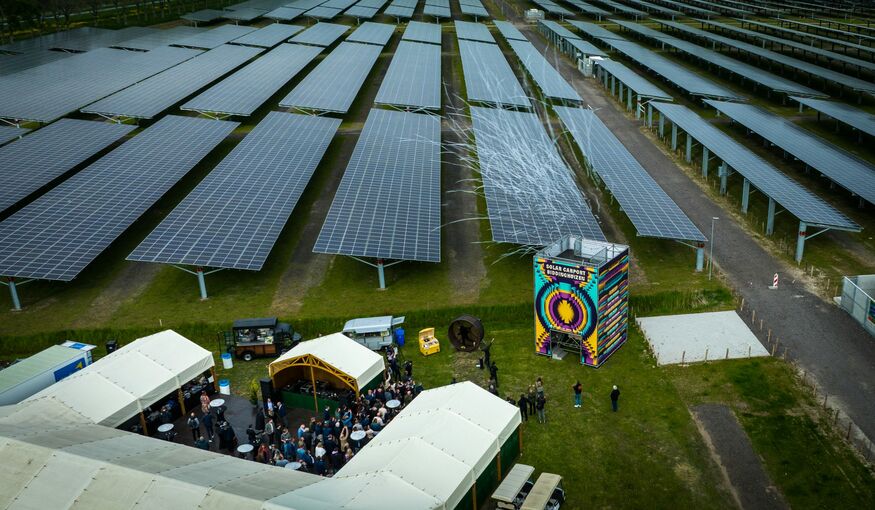 Official opening Solar Carport
Paul van Liempt moderated substantive discussions with leading figures within the energy transition at the opening, including Marjan Minnesma and Tim Verbruggen. Among the important topics discussed were the need for electrical-grid flexibility and the laws and regulations regarding sustainable solutions.
An area fund has been made available from the proceeds of Solar Carport Biddinghuizen for the local environment. Ton van Amerongen, an alderman of the municipality of Dronten, symbolically handed over a first check for €10,000 to energy cooperative BEN.
This ceremony was followed by comedian Dolf Jansen, a fervent environmental activist himself, who festively opened the solar park with a message of hope.
Festive opening
Afterwards, visitors had the opportunity to network on the site, which had been revamped as a mini-festival site for the occasion. From a temporary lookout tower, interested parties could see the magnificence of the world's largest solar carport with their own eyes.
Eric van Eerdenburg (Lowlands Festival Director): "We are proud that this solar carport has been opened in collaboration with Solarfields after years of development. As a festival organization, we want to cultivate an optimistic vision of the future and play a role in solving climate problems. In this way, we hope to be a source of inspiration for our visitors to contribute – no matter how small – to making the world more sustainable."
Niek Tamminga (Director Rooftop): "The realization of a colossal project like this is never without challenges. We are incredibly grateful for the support from governments, enabling us to realize this textbook example of multiple land use in cooperation with MOJO. We hope that it will inspire others to combine parking with sustainable energy generation in more places in The Netherlands."