The Box Company was commissioned by eventagency DDMC to collaborate on providing a Hybrid Teambuilding Experience for a large Belgian pharmaceutical company.
85 people took part in this unique and hybrid team building experience: a dynamic spectacle that is ideal for teams that are (or can be) partly online and partly on location. The colleagues played this adrenaline-boosting and connecting game from a physical location and from various home offices and remote work locations all over the world!
"For those who already know our famous online teambuilding activity Remote Teambuilding Experience: the hybrid version of this game is similar, but instead of 100% online participants, some of the players were now also 'live' together in a physical location. 32 of the players played from the physical location with the 53 online participants who played along with great enthusiasm from China, Japan, US and various European countries," said Pieter van Dijke of The Box Company.
Ensure a real connection with hybrid team building!
Each team consisted on average of 2 participants on location and 3 participants online. The players who were physically on location received exciting packages with the necessary tools and information for the game, the remote participants received a digital toolkit to start the battle. Each participant received their own package with a unique content. Only by correctly combining information could the teams solve different assignments. Each participant always had one part of the information needed to solve assignments. This ensures the right connection and only with 100% involvement do the teams get further into the game. Every participant is equally important to the success of the team. This ensures real connection! After the playing time had ended, the colleagues reunited in the plenary hall and in the worldwide virtual room where the winning team was announced.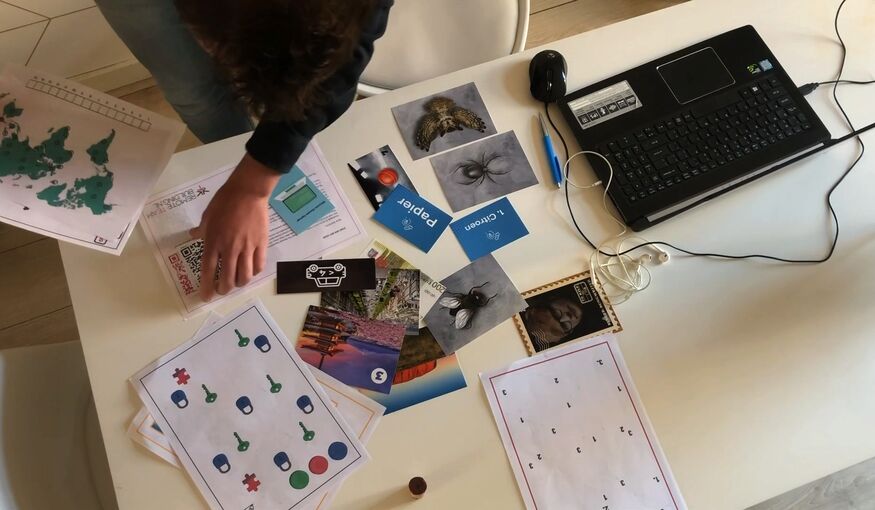 Big compliments
After the smooth and successful implementation of the Hybrid Teambuilding Experience, The Box Company was proud to receive the compliment from DDMC. "No other company knows how to organize a game, or rather an 'experience', like this one, in which about half can participate on location and the other half on location. The experience was absolutely great!", says DDMC.
Blazing enthusiasm
The participants were also asked on the (online) spot afterwards to give a reaction to the game they had just played. The reactions all fell into the 'real fun' and 'reconnecting' category and, according to the participants, also gave the 'team spirit a big boost''. According to the colleagues, the hybrid element of playing together in the cool and unique online-offline combination was great: "What a nice way to work in a team, even though physically far away. It's a great way to use communication to reconnect with all colleagues near and far!."
Psst…! In addition to unforgettable group activities for partly online and partly offline teams, The Box Company also offers fully online and 100% offline team building activities. And the following applies to all these activities: fun and adrenaline guaranteed!