In recent months, we have discovered the power of online events en masse, but many event professionals have also encountered limitations and challenges such as staying within low budgets, adjusting to new techniques and meeting the changing needs of participants.
Now that online events have definitely conquered their place on the event calendar, it is time to take the digital experience to a higher level.
Video conference = low impact
In 2020, massive efforts were made to hold video conferences to maintain relationships with target groups via easy, ready-made platforms such as MS Teams or Zoom. However, a pleasant viewing experience and professional appearance - which we are so used to at live events - have come on a second place. This is an understandable choice, but the impact of these types of events appears to be low.
Your target group already has enough video calls, so how do you offer them an attractive online alternative? The answer lies in the quality of your event presentation. Quality-produced online events have more impact and therefore deliver more to your organization or client. Online events of TV-worthy quality continue to captivate the viewer and ensure that the message gets across to the audience and, more importantly, that it lingers.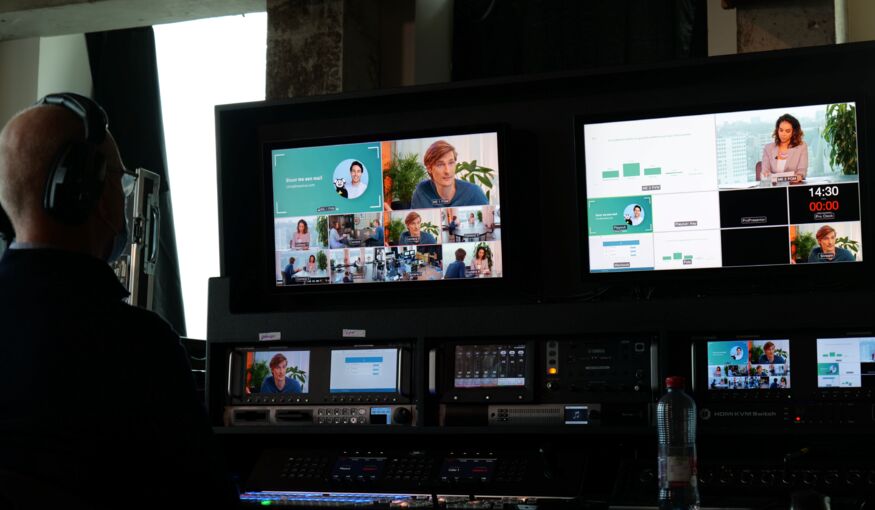 That you can make a difference with quality makes sense. But how do you convince your manager or client to release sufficient budget so that you can offer your participants that valuable TV-worthy quality? Momice gives you five reasons to invest in quality online events.
5 reasons to invest in online events
1. A special experience lingers longer
When you present your new product, strategy or message in an entertaining talk show or impressive virtual world full of interaction with the audience, the chances are much greater that your target group will be motivated to change. The combination of experience, message and interaction will make your audience more enthusiastic about the event and therefore about your company. By exchanging a video conference for a professional studio, you avoid tinny sound, stuttering and grainy images.
2. Speakers stand out better
Working from home means that many people are already in video conferences all day long. The distinction between a meeting and event is therefore too small to register. Content alone, even an external speaker, is not enough to make this distinction.
In a beautiful studio, speakers just stand out better. A different setting and a good director ensure that speakers come across much more effectively. And so does the message.
3. Professional appearance creates impact
Show the participants that you take them seriously by investing in quality. If you have an important message to convey, provide a setting and professional presentation that gets the message across. Such quality leads to more confidence in the product and organization, and the chance is therefore greater that your target group will really become involved.
4. Audience interaction provides valuable information
The more you ask your audience, the better you know what they need. As you get to know the target group, you can shape the strategy of your organization, adapting future events accordingly. In this way you can also test whether your message has come across well and what additional requirements your next product or service must meet.
5. Reusing content saves money
A professional, well-directed and recorded online event offers a wealth of valuable content that you can reuse for marketing. Memorable quotations from speakers and sharp analyses from presenters can easily be shared on social media and thus easily attract new customers.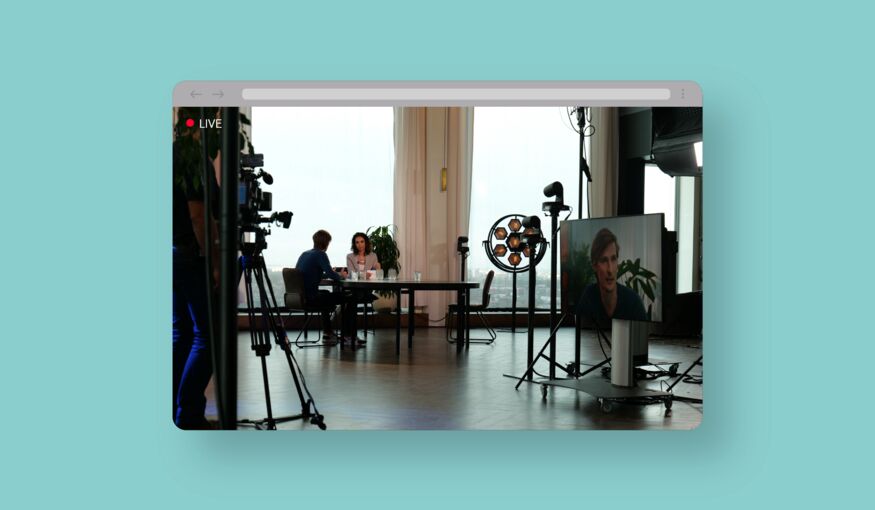 Quality costs money
Quality costs money. This truth is no different for online events than for physical events. Actually, you are dealing with the same cost items as with real-life events, with the exception of catering.
At a glance, the costs for online events include the following:
 Location: In addition to a physical location where you record the live event, you also need a digital location: the streaming or event platform where your audience can participate.
Concept: Of course you want a program that is rock-solid. The content must be top-quality, but also the picture must be visually attractive. Scripting and direction are therefore essential parts of online events.
Technology: Because you are essentially making a television program, you are going to need a supplier for cameras, sound and light. This can be your regular AV supplier, but also a party that, in addition to technology, is responsible for directing the broadcast.
Crew: A good online event is of course not possible without a professional team. You will need cameramen, sound technicians, lighting experts and directors.
Interaction: Don't forget to interact with your audience, to get them involved from the very first second. Consider, for example, suitable software and a moderator for polls and viewer questions.
Presenter: A good presenter or moderator welcomes the audience and enters into conversation with the guests or speakers. Choose people with professional experience who are used to telling their story in front of a camera. Such a moderator makes the experience much more involving for the viewer.
Levels of online events
Now that you understand the requirements for a good online event, you might ask, "what is the bottom line? what will it cost"? To answer that question we will describe two different levels. For a quality online event that meets your needs you can choose between a 'webinar deluxe' or a 'studio quality' event.
Webinar deluxe
You can record a 'webinar deluxe' at home or at the office using two or three cameras. You can supplement this setup with good light and a microphone that produces crystal-clear sound. You can take control yourself, but it is advisable to call in someone else to direct. A production of this size costs on average between 500 and 3,000 dollars per event. This webinar setup works well for knowledge sessions and internal training.
Studio quality
For larger and more complex events such as a relationship event, product launch or knowledge event, you can exchange the living room or office for a real studio or beautiful location. As the program becomes more extensive, so will the technology (camera, light and sound crews, direction). With the rental of a studio and the deployment of professional technicians, the cost will range between 7,000 and 15,000 dollars.
Looking for the perfect platform to host your online event? Have a look at Momice: