The contents leave much to be desired, but you have to be present. With these playful tips, you can make sure you do seem interested and motivated.  
This Reddit user got a bit fed up and decided to take fate notes during a meeting. You shouldn't take it too seriously, but sometimes it works better than writing down nothing!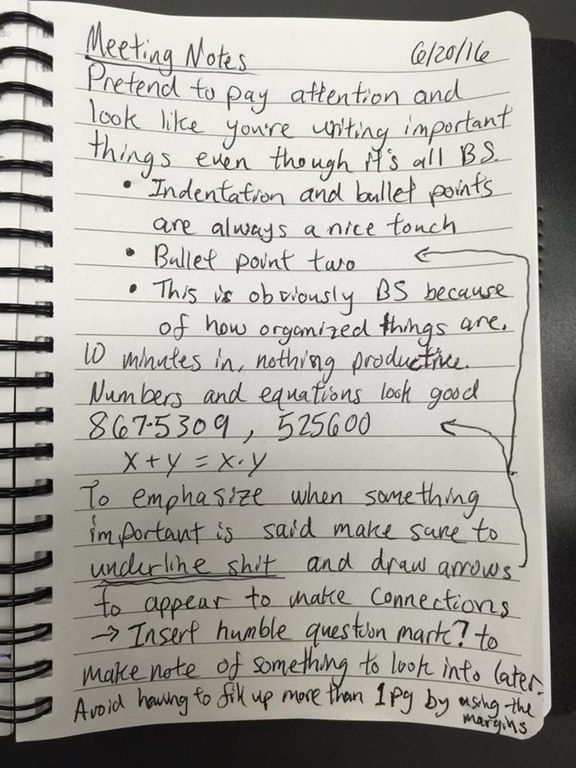 Here we present you with a few tricks to properly fake a meeting report:
First of all, you start with the main subject and the date. That way you can re-read everything and freshen up for a next meeting.
There should always be summaries. Brief and structured, what's not to like? (For the readers who pay attention: we also make good use of it in this article!)
Figures and calculations cannot be left out. When a few people at the table are in a discussion, you can maybe calculate a few options. If then you can precisely state which option will prove to be the most expensive one, you will definitely score some points|!
You can highlight/circle important statements or things you really shouldn't forget. Whatever you find easiest.
Do you have doubts about something or do you have comments? Feel free to place a question in between. That way it stands out more, and you won't forget to double-check it afterwards.
One thing which is not mentioned but which is very possible: write down on one sheet what is being said during the meeting, and on another sheet who needs to do what. That way, you keep a clear overview and tasks can be assigned immediately.
The tips are not only funny, but also contain a lot of truths about properly summing up a meeting!