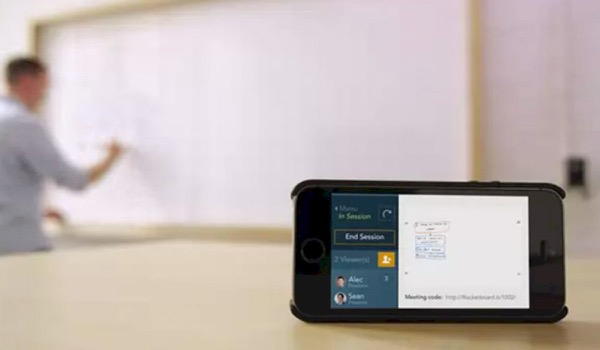 Rocketboard puts your whiteboard or flipchart drawings online so you can share them. Customers, colleagues and friends can log in to your session and view your drawing remotely.
All you need is an Internet connection, whiteboard, and a smartphone or tablet. While you're drawing and explaining, your audience can watch online as your drawing comes to life.    
The way in which Rocketboard works is pretty simple: you position your smartphone or tablet with the camera facing the whiteboard. In each corner of the board, you draw a triangle. This enables the camera to know exactly where to focus. Then you start your drawing. Your smartphone takes pictures of the drawing, adjusts the quality of the image, erases the person making the drawing, and displays the picture online. You can also take a snapshot of your whiteboard drawing and save it. So you can still have your drawing even if you wipe your whiteboard later and create a new drawing. This is an indispensable tool for anyone who participates in virtual meetings or wants to share ideas online.  
In this 'Start-up' series we discover starters with an innovative offering that is beneficial to the event sector.
www.rocketboard.it