The location will determine to a large extent the atmosphere, attractiveness and appeal of your event. In other words, your choice of event venue can make all the difference between success and failure.
The following check-list is a useful tool to make sure that your dream venue really is suitable to host your dream event.
Checklist for Event Venues and locations
Does the venue have the right 'feel' for your event? Is this the atmosphere you want? Can you (and will you be allowed to) make changes to create the right atmosphere? If possible, visit the venue when another event is taking place, so that you can assess the possibilities and limitations of the event space.
Is the venue easily accessible? Is the location central and is the required journey time for your guests acceptable? Can the guests make use of their own transport and public transport? What is the situation for guests who may need to make international travel connections?
Is the maximum capacity large enough for your planned event? Is the division and layout of the space/rooms suitable for the activities you have in mind? Can you rearrange the available space (for example, with moveable partitions) to make it more suitable? Can you enlarge the available space (for example, by placing a tent against an outer wall)? Also be careful not to book venues that are too large. If necessary, place screens or curtains to make the space seem smaller. Guests often feel lost and uncomfortable in large (open) spaces.
Are there enough separate break-out rooms to organise parallel sessions?
Are adequate parking facilities available, either at the venue itself or somewhere nearby? If necessary, can a shuttle service be arranged?
Is the venue accessible for the physically-challenged? Is a toilet available for wheelchair users? Are there obstacles, such as too many stairs? Is there a lift?
Are there enough toilets in general? You should count on one toilet for every 75 guests. 
Is there a cloakroom? If not, is there a room that you can transform into a cloakroom?
Are catering facilities available (i.e., a kitchen)?
Are you obliged to make use of the venue's house suppliers for technical support, catering, decoration, etc.? Do you need to pay an indemnity fee if you want to work with your own suppliers?
Can you make use of any tables, chairs, etc. that may be available at the location. Or do you need to rent these from a specialised hire company?
Does the venue have its own audio-visual facilities and sound-system that you can use?
Are the venue's acoustics acceptable? 
Check that the event space can be darkened, if this is necessary for your planned activity, or, alternatively, that there is sufficient daylight.
Is the power supply sufficient to meet your electricity needs? Or do you need to hire in an additional generator?
Are all utilities costs (use of water, electricity, etc.) included in the basic hire cost of the venue?
Is there sufficient (atmospheric) lighting in and around the venue? Is the parking area well-lit and safe? 
Does the venue have its own stage or is there space to construct a hired stage? Is there a dance floor?
Are there changing rooms for both staff and artists? 
Is there a maximum noise level or closing time of which you need to take account? Is it possible to obtain special permission to get around these limitations?
Are the heating and/or air-conditioning systems adequate? When a large number of guests enter a room in rapid succession, the temperature can rise (too) quickly. Ask the advice of a specialist company: they can tell you how to avoid the entrance becoming too cold, while the rest of the room is too warm. 
Is it possible to continually ventilate the room(s)? A lack of air can lead to loss of concentration, which is hardly ideal for congresses and seminars.
Does the venue have a (digital) sign system to show guests the way from one room to another?
Are there good internet connections and a wifi hotspot which the guests can use?
Does the venue have a location manager who can help you to think through problems during the preparations and assist in the smooth running of the actual event itself?
Are there sufficient hotel rooms available in the vicinity of the venue?
Are you able to hire the venue exclusively or will other events be taking place there at the same time?
Is there a room that can be set up as a press room or communications centre? This room must be equipped with electricity, internet, telephone and fax. You may also wish to consider setting up a production office, from which you can coordinate the running of the event.
Remember to pay close attention to security. Are there sufficient emergency exits, fire extinguishers, a first aid kit, etc.?
Is the venue easily accessible for all your logistical operations, such as the delivery and collection of materials and equipment?
Check that the entrance doors are sufficiently wide. For example, it would be a shame to book a venue for a new car launch only to discover at a later stage that you can't get the car inside the building!
Is the load-bearing capacity of the roof sufficient to support heavy constructions and winching? Are the ceilings sufficiently high?
Can you make arrangements for smokers? Notwithstanding the ban on smoking in public places, some of your guests will still want to 'light up' during your event. Is there a covered area (outside) where they can smoke or can you rig up a temporary structure with heating units?
...
The checklist for event locations and venues in our book EVENTS 2 is even more extensive a whole lot, but the above list will help you no doubt already a long way.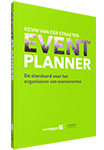 More about this topic and lots of other tips about organising events can be found in the book EVENTS.