If you are organising a paying event, the ticket price will be an important element in your business case. But setting the right ticket price and finding the best sales strategy can be a real challenge.
To set your ticket price, you need to take account not only of your costs, but also assess how much a visitor is prepared to pay to attend your event. After all, your event offers value to the visitor. This value takes different forms. It can be entertainment (if it is a concert) or knowledge (if it is a congress). You therefore need to put a price on this value, bearing in mind the prices charged by your competitors in similar circumstances. Is your price higher than theirs? If so, do your visitors get more perceived value for their money?
The way in which you set your ticket price and organise your sales can have a significant impact on your total number of visitors. There are a number of techniques you can use to sell more tickets:
Offer an 'early-bird' option
By creating a sense of urgency in combination with a reduced price, you can encourage people to buy tickets more quickly. The 'early-bird' option can often convince doubters to buy their tickets as soon as possible, providing you with cash income that you badly need at this early stage in the project.
Set a range of clever price options
Let's imagine that you want to sell your tickets for 200 dollar. You can do this by creating a context for this 200 dollar price within a range of three options. The first option is a straightforward entrance ticket with no extras, costing 170 dollar. The second option - your preferred option - is an entrance ticket plus cocktail dinner for 200 dollar. The third choice includes a meet-and-greet with the speakers and costs 250 dollar. (These prices are, of course, purely fictional). By offering different options, you let your potential visitors see exactly what they are getting for their money and research has shown that in these circumstances the majority of visitors opt for the middle price (not the most expensive and not the cheapest). In other words, the frame of reference created by the highest and the lowest price makes the middle price feel 'correct'. 
Offer discounts for different target groups
Don't forget to offer discounts. People love the idea of saving money (especially if you let them see exactly how much they will save). Look at the different visitor profiles of your expected visitors and divide them into categories, each with a personalized price class. If, for example, you are organising an academic event, you can offer different prices for professors, students and other educationalists. In this way, you can make your event affordable for a larger group of people, so that you will attract a larger total audience. But remember to maintain your margin for the target groups who you know will have no difficulty in paying the full ticket price.
Want to get started? Use the free eventplanner.net software to calculate a business case for your event .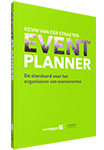 More about this topic and lots of other tips about organising events can be found in the book EVENTS.