There are different systems that you can use as a basis for drawing up an event budget. Each has its own different avenue of approach and its own specific advantages and disadvantages. In this post we list the options for you.
Drawing up a budget is a continuous, on-going process. It is best to start with a global approximation of costs. Do this before you ask for price tenders. This will allow you to check whether or not you are approaching your project realistically. Gradually adjust your initial rough estimate as and when more accurate information becomes available; in particular, when price tenders are received and approved. 
Is your budget too high? If so, check each individual budgetary post to see where cheaper alternatives may be available or where particular items can be deleted. Never remove anything from the budget that will reduce the overall quality of your event. As an alternative, consider sponsoring by outside third parties: this is a useful way to increase your available financial resources. A partnership with another company that has the same target groups is another possible solution, which may allow you to share costs. 
The different strategies you can use to prepare your event budget:
Functional cost classification
Opting for a functional classification of your event costs means that you will build up your budget on the basis of your main categories of expenditure, such as catering, venue, audio-visual services, etc. You totalise the costs for all the activities in each category. The total of all the individual categories is then the total amount of your budget. You should only use this method of classification for relatively small events; it will not be sufficient to ensure the proper financial management of larger, more complex projects. 
Pros
This method gives you a good overview of the relevant balance of cost between the different categories of activity. This means that a functional classification allows you to draw up a well-balanced budget. Are the costs for catering too low in comparison with the costs for technical support? By checking the figures against your previously defined objectives, you can see whether your estimate is realistic, optimistic or pessimistic. If there is no other alternative, it will also make it easier to see where you need to make changes to your event programme in order to make the budget balance. 
Cons
The interaction of different categories on each other is often overlooked, which can result in an increase in unforeseen costs at a later stage. For example, if you decide to invite more guests, it is not only the budget for catering that needs to be increased; you will also need to increase the budgets for communication (more invitations), location (a bigger venue) and safety (increased insurance, more personnel). 
Fixed and variable costs
As the name implies, with this system you make a distinction in your budget between the fixed costs and the variable costs for your event. Fixed costs are not dependent upon the number of invitees, and cover matters such as entertainment, guest speakers and audio-visual equipment. Variable costs increase or increase in accordance with the number of guests. The most obvious variable cost is catering, but matters such as programme books, promotional handouts, etc. should not be overlooked.
Attention! Some fixed costs are only fixed up to a certain limit. For example, the hire charge for your event location is in theory a fixed cost, but as soon as the number of guests exceeds the capacity of the hall it will be necessary to seek a new, bigger and more expensive venue. In other words, a fixed cost can sometimes become a variable cost. 
Pros
The division between fixed and variable costs is a useful and often necessary instrument for assessing the maximum number of guests allowable in relation to the available budget.
Cons
It is more difficult to follow the budget provisions for the individual categories of activity. 
Calculation and extrapolation of costs per programme element
With this method, you make a summary of the costs for each section of your event programme. For example, if you are planning an all-day event, you might have separate budgets for team-building in the afternoon and dinner in the evening. As far as overarching costs are concerned, such as invitations or website management, an agreed coefficient is applied to the total costs per programme element. 
Pros
You have a very clear view of the budget for each element/activity of your event. 
Cons
The use of a coefficient for overarching costs is often arbitrary and inaccurate. 
Combination of cost assesment methods
Of course, you can always opt for a combination of cost assessment methods. For example, you can use a functional classification method to draw up a separate budget for each programme element, whilst at the same time calculating separate subtotals for the location, catering, etc. for your evening dinner. Various other permutations of this kind are also possible. 
Event budget software
Automate your budget calculations so that you always have an up-to-date summary of the total cost of your event. Use tailor-made software for event budgeting, like the free event planning software by eventplanner.net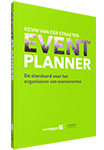 More about this topic and lots of other tips about organising events can be found in the book EVENTS.