Werchter Parklife, the light version of Rock Werchter, runs entirely on green and locally generated energy. Energy platform Bolt, which is responsible for the energy, announced this at the start of the concert series. "We see it as our duty to come up with a solution for the greening of festivals," says Pieterjan Verhaeghen, co-founder of Bolt.
It is the first time that a festival of this scale has completely supplied its energy supply in a sustainable way, but festivals have been making efforts to be more sustainable for years. However, a large part of their CO2 emissions still come from diesel generators that generate electricity. "We wanted to do something about that," said Pieterjan Verhaeghen of Bolt.
Bolt is an energy platform where local producers of all possible forms of green electricity can register and where they can sell surpluses. Last year, the platform already set up a test installation with Studio Brussel's radio program Camping Belgica. "That test was successful. That's why we want to go a step further this year. The scale of Werchter Parklife is perfect for that." They in turn take the knowledge they acquire here with them to future projects. Just think of the bigger festivals next summer, such as Rock Werchter or Pukkelpop.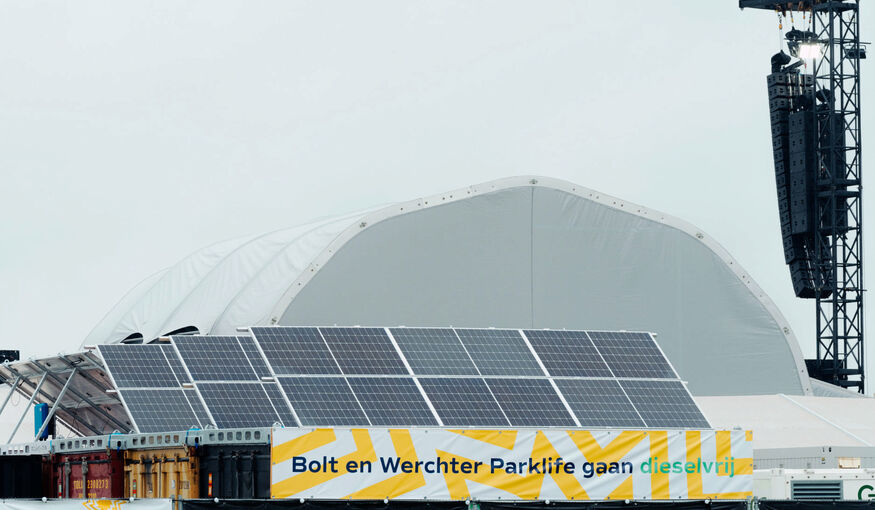 72 solar panels
Parklife's energy is generated via a mobile solar park with 72 solar panels, which is placed on the meadow. Additional energy enters Werchter via three power generators, connected to the Bolt platform. Surpluses are stored in a 'super battery'. This ensures that there is always sufficient energy available during peak times.
Werchter Parklife starts with two sold-out concerts by the Belgian group Balthazar. Until the end of the month, different artists or groups will play a show from Thursday to Sunday. A maximum of 2,500 visitors are allowed on the light version of Rock Werchter every day.