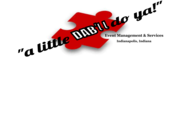 "a little DAB'll do ya!"
3704 N Pennsylvania St, Suite One 3704

,

46205

Indianapolis

, United States
"a little DAB'll do ya!" an Event Management and Services firm based in Indianapolis, Indiana with 25 + years of experience offering customized services that cover every aspect of weddings, occasions and events including concept, design, decoration, coordination, food & beverage, budgeting, resources, promotion, vendors, consulting and execution focused on "creating memories to last a lifetime". It is the PASSION we have for our work and that we put into every event, coupled with proven management techniques that sets us apart! We are passionate about being the catalyst in transforming YOUR vision into memorable outcomes. Harnessing the necessary resources to allow YOUR vision to flourish.
Website van dit bedrijf nodig?
Log in om de website van dit bedrijf te bekijken. Registreren is helemaal gratis.
Een account is helemaal gratis
Je krijgt toegang tot exclusieve content
Je ontvangt onze tips, nieuws, ... in je mailbox
---
Is dit jouw bedrijf?
Is dit jouw bedrijf? Upgrade je bedrijfspagina en de link naar je website verschijnt bij al onze bezoekers.
Bedrijfspagina vanaf 20 euro per maand
TOP ranking in onze zoekmachine
Toegang tot reviews, vacatures plaatsen, ...
Reviews over "a little DAB'll do ya!"
Discover other event suppliers and venues
Activities "a little DAB'll do ya!"
Activity regions:

USA - Indiana

Activities:

Keywords:

wedding planner | decoration | event planner | party | caterer | organizer | wedding | special | coordinator | celebration | occasions | retirement | planning | event | anniversary | planner | fundraiser | memorial | weddings | union | shower | birthday