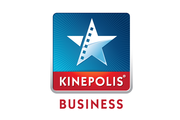 Kinepolis Brussel
Eeuwfeestlaan 20

,

1000

Brussel

, Belgium
Are you planning a conference, company party, presentation? Then you may have a laundry list of wishes. The event location must be easily accessible for all guests - also by public transport - and offer sufficient parking space, the necessary infrastructure, audiovisual facilities, sufficient space for relaxation and networking, catering à la carte, as much support as you wish,… in fact everything what Kinepolis Brussels has to offer!
Do you spontaneously think of cinema at Kinepolis? That's right. But there is also so much more possible. This makes Kinepolis the ideal location for all kinds of events, from an exclusive presentation for VIPs to a large-scale multi-day conference for hundreds of participants - and everything in between. Discover our formulas:
Corporate event
Congress, seminar, meeting, product launch, fair, ...
Event with film
Avant premiere, premiere, private screening, film classic, Watch after Work, ... You can also join official avant premieres with actors coming to speak to the audience and a glamorous red carpet moment. In Kinepolis Brussels you can completely immerse your guests in the unique Imax experience. From 2018 you can even treat your guests to the ultimate movie experience in 4DX with (very) special effects of smell, wind and snow.
Spectacle in the Cinema
Stand-up comedy, opera, concert, ballet performance, Art in the Cinema (museums behind the scenes).
For every event you can use a combination of cinemas, meeting rooms, network and catering spaces with accompanying facilities and services.
Kinepolis Brussels: the event location tailored to you
For a small reception for a select audience or a prestigious presentation with a walking dinner for hundreds of guests: let yourself be surprised by the many possibilities at Kinepolis Brussels.
Easily accessible , only 5 min. From Ring RO.
1,500 public parking spaces (open 24/7) , metro / tram / bus stops nearby.
25 rooms for 100 to 619 guests with luxurious seating comfort, state of the art audiovisual equipment, excellent acoustics.
Multipurpose rooms : Espace Lumière , White Hall and VIP lounge, to be set up for conferences, seminars or staff parties.
Three break-out rooms for smaller receptions, meetings, workshops, etc.
All rooms are available separately or in combination .
Our experienced catering partner makes one customized proposal, from select reception to walking dinner for 100s of guests.
Are you looking for an event location in Brussels that is easily accessible (with sufficient parking space) and that offers advanced audiovisual facilities, including the possibility of live streaming, where tailor-made catering is available and professional support, then Kinepolis Brussels is the answer.
2 reviews on Kinepolis Brussel
Activities Kinepolis Brussel