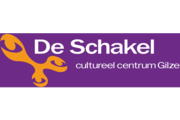 Cultureel Centrum De Schakel
Kerkstraat 104

,

5126 GD

Gilze

, Netherlands
Visitors to various target groups find their way to various courses and activities, the cinema or the theater, in De Schakel's building, which was renovated in 2008 and is under architecture. The foyer is the heart of Gilze's cultural center and living room, where young and old meet.
We have 16 rentable rooms of various sizes and functions in De Schakel. The room capacity varies from 4 to 400 people, so you can come to us for receptions, meetings, company parties, symposia and anniversaries.
This multifunctional accommodation is popular for its flexibility, facilities, atmosphere and space. Whatever you need a space for, it is sure to be found with us!
You will find our building at Kerkstraat 104 in Gilze, only 1.5 km away from the Rijksweg (A58), by car 20 minutes from Breda and 15 minutes from Tilburg. Parking is free and can be done at the side of the building: there is usually enough space here.
Our spacious theater halls (capacity up to approx. 400 people) regularly host large events, such as trade fairs or annual meetings. You can rent the hall with or without a luxurious theater grandstand. And what about the basement with bar and full light installation? There you can also organize a fun event for your colleagues. A symposium, company party, anniversary celebration or whatever you wish: De Schakel staff will be happy to arrange this perfectly for you!
Do you want to make your party a fantastic day or evening? Then you have come to the right place. We will discuss the desired catering and atmosphere with you. Whether you want a small-scale high tea, a friends dinner, a large, sparkling party or a family afternoon with fun for the kids, it is all possible.
Whether you have a large company or are a self-employed person without staff, we have a space that suits your needs. Our meeting rooms can be equipped with various modern audiovisual aids: from flipchart to beamer. You can also use the wireless network (WIFI) for free.
If you want to meet all day, we can provide a delicious lunch in between.
You can also contact us between appointments by, for example, preparing a report or answering mail in our foyer.
Reviews on Cultureel Centrum De Schakel
Activities Cultureel Centrum De Schakel