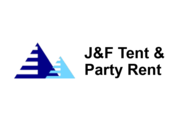 J&F Tent & Party Rent
Dendermondsesteenweg 177

,

9300

Aalst

, Belgium
The J&F Tent & Party Rent company was started on 1 June 2004. The managers Jan Meuleman & Freddy Braekman had several years of experience in the rental and construction of frame tents. Are you planning to organize a garden party, a wedding party, a private party, a communion party, a barbecue or a food festival, then you will undoubtedly find the right application with us.
Our registered office is located at Dendermondsesteenweg 177 in Aalst and for info / orders you can call 053 / 781.828 or 0475 / 329.240 by phone.
Rental white frame tents
These are modularly expandable tents with a width of 6 meters. They can be extended in length per segment of 3 meters. The minimum area is 6m x 3m. It is possible to build 2 tents together if you want a larger width of 12m. Our tents are approved according to European standards with regard to (fire) safety.
Party supplies rental
For the decoration of your interior space we rent the necessary accessories such as luxury chairs, PVC chairs, PVC tables, high tables, terrace & buffet tables, round tables, table linen & table skirts, plank floor, tent heating, terrace heating, tent lighting, refrigerator case, etc. For further info, photos and prices can be found on our website.
Reviews on J&F Tent & Party Rent
Activities J&F Tent & Party Rent
Activity regions:

Oost-Vlaanderen | Belgium

Activities: