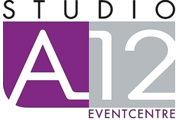 Studio A12 bv
Schoudermantel 52

,

3981 AH

Bunnik

, Netherlands
Studio A12 in Bunnik, the event location for both the private and business market. Studio A12 is a unique event location with 4 different atmospheric spaces and a large outdoor area, with capacity for up to 3,000 guests.

The spaces are multifunctional; By combining all rooms together, a maximum capacity of 4,000 guests is created. In addition to the thematic staff parties, Studio A12 is also the perfect location for business meetings such as a conference, product presentation, exhibition or business day.

Studio 1
Studio 1 is the blackbox of Studio A12 and has a free space of over 850 m², a height of over 6 meters, a large balcony and a capacity of no less than 1,500 guests. The possibilities in Studio 1 are endlessly versatile and overwhelming.

Studio 2
Studio 2 stands for atmospheric and surprising. A permanent DJ and LJ Booth and the extensive light and sound facilities make Studio 2 a trendy space. Thanks to modern LED lighting, the entire room can be easily illuminated in the colors of your company.

Studio 3
Modern, attractive, business and trendy: that is Studio 3, equipped with a unique LED Wall. The LED Wall, which extends over the ceiling, provides a unique light sensation at every event: moving images and company logos can be displayed in all colors.

Ideally located directly along the A12, 5 km. away from Utrecht. Easily accessible and free parking spaces with 1,200 guarded and on-site parking.

Studio A12 is part of Brothers Horeca Groep (BHG); a young, growing organization that values hospitality, service and quality.