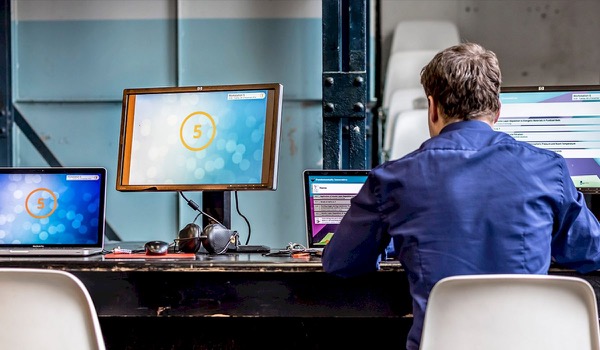 The best tool for managing and sending presentations during your congresses and events is called Slidebox. No longer will you have to deal with technical malfunctions, difficult transitions and interruptions. Slidebox will make sure that everything goes smoothly and that all attention goes to the speaker and his message.
How does Slidebox work?
Beforehand, you upload your presentation onto Slidebox's secure online portal. All popular presentation formats are supported: Powerpoint, Apple Keynote, Prezi, PDF ...  
There's no presentation without proper testing. The presentations are tested thoroughly beforehand. Are the videos playing yet? Do the animations work? Is the sound of sufficient quality? Of course, adjustments are possible.
During the presentation, you as an event organiser can get real-time information and feedback. And during the breaks, the system allows you to add program information or sponsor information.  
Slidebox not only offers a platform and an IT solution, but a complete service. That way, you avoid the typical technical pitfalls during presentations. The result: a big comfort for you as an event organiser AND for the speakers.  
In this series 'Start-up' we discover starters with an innovative offer which is useful for the event industry.
www.slidebox.nl